Employee Stock Ownership Plan (ESOP)

3 Steps for a successful ESOP
SCS Administration specializes in the design and installation of Employee Stock Ownership Plans (ESOP) of privately held C Corporations and S Corporations. Headquartered in San Diego, California, SCS maintains representatives nationwide. Our staff and associates are comprised of professionals who are thoroughly knowledgeable in the legal, financial, and administrative fields.
At SCS, since 1986 we have had a unique model for implementing and managing a Company's ESOP. All phases of the ESOP are thoughtfully and carefully integrated personally by SCS' staff. By us being involved with each stage of the ESOP, you are assured that your company's objectives for an ESOP will reach success not only initially, but also for all the years you want to take advantage of the benefits of an ESOP.

Here are the three steps for a successful ESOP:
ESOP Feasibility Study
First, a Feasibility Study. This study is specifically designed to a Company's circumstances. Typically, the study details about six possible designs for the ESOP, but often makes a recommendation for the optimum design (or combination of designs) for the ESOP initially. However, the feasibility study is more than a recommendation on how to start an ESOP. It is a ""road map"" for years in the future, as it considers possible adjustments in the design of an ESOP that would be most advantageous for the Company as the ESOP matures.
ESOP Implementation
Second, implement the ESOP. After an ESOP Feasibility Study is presented by SCS and understood by the Company's management, if the Company decides to adopt an ESOP, SCS puts the ESOP design to work. This could involve many services, depending of the ESOP design, such as the presentation of the Plan document, filing the Plan with the IRS for IRS approval, appraising the Company's stock for the ESOP transaction, loan and stock sale documents, loan amortization, employee educational meetings, etc. All these services are coordinated personally by SCS.
ESOP Annual Plan Administration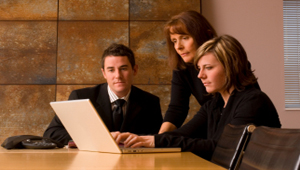 Third, annual Plan Administration. SCS' plan administrator will follow the ESOP design. Actually, the designer of the ESOP is also the plan administrator. This means that the administrator is doing more that simply following ESOP administration procedure, rather, the administrator is annually monitoring and directing the ESOP design. Moreover, the administrator, by thoroughly knowing the specific circumstances of the Company and its ESOP, will be able to recommend adjustments to the ESOP for the continued success of the Company and its ESOP.
For more information about SCS Administration and our services,
Please call (858) 272-8973 |e-mail us at bturner@scsadmin.com